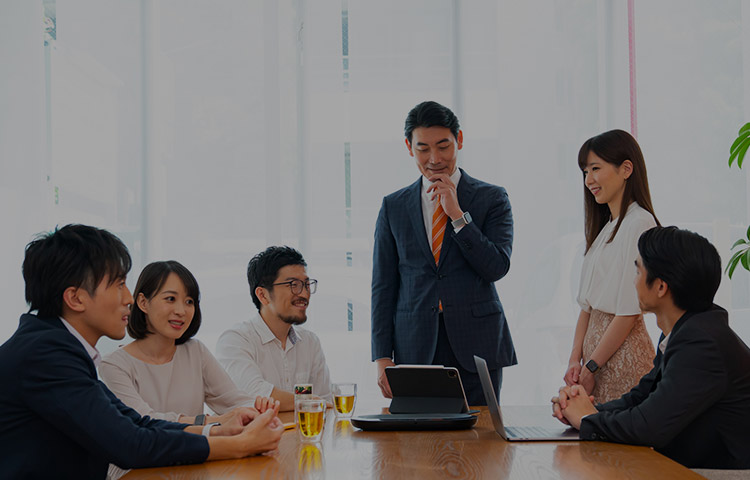 Hajimu SATOPresident and CEO

As founder and CEO of Guardian Advisors, Hajimu manages the entire operation of the firm. He also takes lead roles on both M&A Advisory and DX Advisory projects.

Hajimu started his career as M&A Advisor in 1999 and has since provided service mainly to Japanese corporates and financial investors with both Japanese / US investment banks and M&A boutiques.

Being in the market for over 20 years, his experience ranges across every array of M&A deals, from advising business owners to multi-billion dollar public mergers, and brings a firm understanding of a range of cultures and best practices. He was also one of the first to implement Tech Driven Management, advocated by Hiroki Takayagi (GA Partner) and has since been introducing ways to apply technology into the field of advisory services.

Hajimu also serves as Director of GUARDIAN ADVISORS (INTERNATIONAL) PTE. LTD. Director and an Advisor to NSSK (Nippon Sangyo Kakushin Kiko), a Japanese private equity firm.

1999- ​Nikko Securities (M&A team) | 2004- ​Lazard | 2007- ​Lehman Brothers,​Investment Banking Division | 2008- ​GCA​| 2011- ​Lincoln International​| 2015- ​Guardian Advisors Inc.

BA in Law, Keio University | St. Paul's Middle/High School

Yuya HIRASHIMAM&A Advisory Group Officer

Yuya leads Guardian Advisors' M&A Advisory business. Based in Singapore, Yuya covers deals in Japan, East Asia and Southeast Asia.

Yuya started his career at Shinsei Bank's Institutional Banking Division. He started his career in M&A Advisory in 2010 when he joined Barclays Securities Investment Banking Division followed by Lincoln International, a U.S. boutique M&A firm's M&A Advisory team in Tokyo. In 2015, Yuya relocated to Singapore and joined KPMG Corporate Finance, where he eventually served as Director in its M&A and Capital Advisory team and led M&A projects in countries such as Japan, Singapore, China, Malaysia, Indonesia, Vietnam, Thailand and the Philippines. Yuya joined Guardian Advisors in 2020 as Partner and Executive Director.

As an M&A advisor, Yuya has extensive experience in leading small to medium-sized transactions advising business owners, corporates and private equity firms. He is one of the few Japanese advisors in Southeast Asia who has led a wide array of local sell-side deals, and brings extensive knowledge of M&A in Japan and Southeast Asia from the standpoint of both buyer and seller.

Yuya also serves as Managing Director of GUARDIAN ADVISORS (INTERNATIONAL) PTE. LTD.

2009- ​Shinsei Bank | 2010- ​Barclays Securities,​Investment Banking Division | 2011- ​Lincoln International | 2015- ​KPMG Corporate Finance​(Singapore) | 2020- ​Guardian Advisors Inc.

BA in International Liberal Studies, Waseda University | International Christian University High School

Shuhei OGAWADX Advisory Group Officer

After seven years of experience, Shuhei started his own business in South East Asia in the Education and Human resources field while also helping a tech company at its growth phase in business development and operation optimization. Became a Partner at Guardian Advisors in Jan 2017.

As an M&A advisor, he started his career with Mitsubishi UFJ Morgan Staley Securities, then joined Lincoln International, building a diverse range of experience in the field, in terms of size, industry and types of transactions. Has a strong advantage in cross-border deals, due to native fluency in both Japanese and English. He is insightful in advising from an operation point of view from his experience with startup companies.

Shuhei is also President and CEO of Emosta, a company using AI technology to quantify human emotion from facial expressions

2008- ​Mitsubishi UFJ Morgan Stanley Securities|​ 2011- ​Lincoln International​|2015- ​UNLOCK DESIGN

B.A. in Economics and Political Science. Indiana University Bloomington | Seiko Gakuin Middle/High School

Hiroki TAKAYANAGITech-driven Management Architect

Founder, President and C.E.O. of WEBIMPACT, INC., Info-Sociologist, IT Strategist, Lecturer at RIKKYO "St. Paul's" University, Music Composer and Arranger, Blogger

After receiving B.Phil. (1999) and M.Phil. (2001) from RIKKYO University in Tokyo, he then studied as a graduate student in the field of TCP/IP and its socio-economic impact on society.In 1999, at the age of 22, his growing interest in TCP/IP led him to found WEBHUT COMMUNICATIONS, INC., which later became WEB IMPACT, INC.

WEBHUT initially started off as a web system integrator. One of the early clients include NTT East Company, which together developed a web-based bulletin board system, accessible from mobile phones (specifically on NTT DoCoMo's iMode), called "Mobile V-Campus" for universities. WEBHUT played a crucial role in coding the core program as well as service development.While building up reputation as a quality web system integrator, WEBHUT progressed in making its own product, JobCommunicator®, SaaS which provides a JOB SCHEDULING solution for businesses.

From the experience of being a student entrepreneur, he is also interested in collaborations between BUSINESS and ACADEMIA, and is actively involved in academic side as well. He has been a lecturer for the MBA program at RIKKYO University since 2002, a visiting researcher at the Creating Center of Business Creators in RIKKYO University and has been active researcher of the Institute of Media Communications at KEIO University while serving as one of the judges for the International Business Contests for Students OVAL at Tokyo and AI & BIGDATA HACKATHON at Kuala Lumpur. His subjects of study and lectures include "Start-Up Strategy", "Media Technology", "Information Industry" and "Business Presentation Skill" among other topics.

His messages and opinions in the academic field are heard and covered in various media and policy makers. In Apr. 2002, he was invited to the committee for the House of Representatives as an entrepreneur in the 154th Diet with Mr. TASAKA, Hiroshi, president of SOPHIA BANK, and Prof. YONEKURA, Seiichiro of HITOTSUBASHI University. In 2007, he became part of the council for the Tokyo Metropolitan government about business development.

Being active in a wide range of fields, he is part of various research and associations including; the investment committee of the Itao Research Institute, Ltd., the Japan representative of EDUCOLOGY Consulting, The Japan Academic Society of Information and Communication Research, Public Policy Studies Association, The Japan Academic Society for Ventures and Entrepreneurs and Business Model Association, The Japan Academic Society of Mass-Communications.